This blog first appeared in the Huffington Post Canada here.
By Daniel Townsend
As many see the world making a shift to the right, there has been a groundswell of liberal praise for Canada. For many, Canada is viewed as a stable democracy with an educated multicultural population that seemingly all co-exist well. While many societies grapple with an emergence of right-leaning nationalism and cultural exclusivity, we, Canadians, harbor no outward illusions of greatness but are united on a common understanding that inclusiveness, tolerance, sound social and economic policies are the backbone of our strength — and this does not include the Trudeau factor.
Sensing a rise in our global perception stocks, Prime Minister Justin Trudeau has embarked on a broad range of initiatives and actions which if successful would result in Canada having a newly elevated role and position on international political dialogues and policies. Indeed, in some regard this is welcoming news. As the world seemingly enters a new era of polarity, Canada, with our perception of being a champion of diversity, progressive values, and stability, undoubtedly has a role to play in helping to provide balance to our increasingly troubled global world.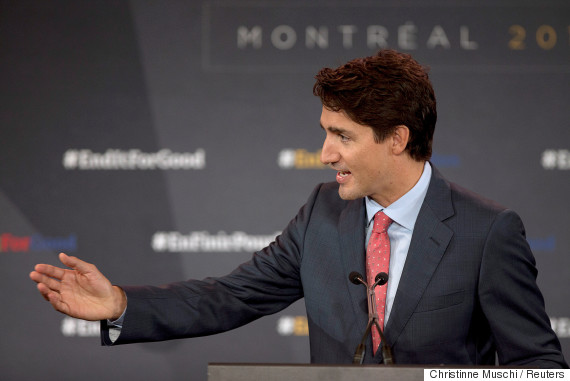 One of the issues Mr. Trudeau hopes to provide Canadian leadership on is in global health, which includes having an active role in helping to end the HIV epidemic. Speaking at the recent Global Fund replenishment conference in Montreal, Mr. Trudeau touted that "Canada will continue to lead by example, and show the world what we can accomplish when we unite in pursuit of a larger goal." This statement summed up the optimism of the moment especially when the replenishment conference resulted in over US$12.9 billion mobilized for fighting against the disease.
However, this declaration came at a time when HIV rates have been steadily rising across the country, people with HIV being criminalized for non-disclosure and underfunding for HIV organizations. Notably, in Saskatchewan public health doctors have called for a state of emergency due to rising HIV infections and prevalence.
Canada must adopt a robust forward-facing approach to health for all and a renewed commitment to eliminating barriers to good health, education, and employment.
Similarly, historically marginalized communities and populations such as, indigenous and minority black and Afro-descendant Canadians have higher infection rates which in some cases are twice than the national average. There is a consensus among researchers and HIV policy makers that these infection rates are due to the social and cultural conditions which these communities face. Historically based forms of social exclusion such as racism, institutional stigma and discrimination and disadvantageous economic policies continue to have a deleterious effect on realities of these Canadians.
For First Nations communities in Saskatchewan, the reality of this socio-economic context could not be any dire. According to 2014 data the province of Saskatchewan saw 71 per cent of new HIV diagnoses being among persons of aboriginal descent. These are alarming rates among the highest in any region in the developed world, and this is happening right here in Canada. They persist only one part of the story of higher rates of illnesses, unemployment, and homelessness.
To stem this trend, Canada must adopt a robust forward-facing approach to health for all and a renewed commitment to eliminating barriers to good health, education, and employment. For Canada, this includes fully making amends with our histories of oppression towards the groups which now manifests in higher rates of HIV and adopted corrective policies connects threats to good health brought by them.
Leadership or Hypocrisy
It has been announced that Mr. Trudeau will travel to Liberia where he will discuss with the President Ellen Sirleaf, several issues including gender equality and health. For Liberia, these are important issues. It is expected that the HIV epidemic would be one of the policy touchstones for this discussion. However, while Mr. Trudeau engages with Liberia on these matters, it is hypocritical that stronger leadership and gestures are not made here in Canada to address disproportionate rates of gender inequality and health statuses.
If Mr. Trudeau is to make good on Canada playing a role in ending AIDS globally, this must include stronger leadership on the home front. For many, this will come in addressing violence against women, including that faced by aboriginal women, whose dignity in this country is threatened by human trafficking for sex and other types of systematic abuses (the more than 582 missing and murdered aboriginal women and girls speaks to that alone). For other communities such as black and minority populations, more work and policy action is needed to respond to the factors of socio-economic exclusion which result in higher rates of HIV and should be adopted across all levels of government.
Over the last 33 years of the HIV epidemic our societies have had to grapple with watershed challenges created by the disease. Over this time, HIV organizations, community activists and policymakers have had to adopt bold strategies and approaches to fight against the pervasive and aggressive factors fueling the epidemic. The experience of this has taught us that without evidence-based and honest measures about what causes the disease and how it spreads, ending AIDS will never be possible.
For Canada, this means addressing some of the unpleasant truths about ourselves, which if done right, would provide real gains to ending AIDS and fighting against the social conditions contributing to ill-health and social exclusion. In this sense, Mr. Trudeau is correct; it is time for bold Canadian leadership, but it must first start at home.
Daniel Townsend is an associate consultant at Adobe Consulting Services and former Board president of the Interagency Coalition on AIDS and Development (ICAD). He divides his time between Toronto and the United Kingdom where he is a health policy candidate at Imperial College London.
This blog is part of the blog series: Barometer Rising: No time to backtrack the fast track to ending HIV as a global health threat by 2030 by the Interagency Coalition on AIDS and Development (ICAD) in recognition of World AIDS Day (1 December). The series features a selection of blogs written by our member and partner organizations. Contributors share their broad range of perspectives and insight on what they think needs to be done to strengthen our HIV prevention efforts at home and abroad in order for the world to meet the ambitious target of ending AIDS as an epidemic by 2030.
Disclaimer: The views and opinions expressed in this blog series are those of the authors and do not necessarily reflect those of ICAD.