This blog first appeared on the Huffington Post here.
By Wendy Therrien, Director of External Relations for the Canadian Network for Maternal, Newborn and Child Health (CAN-MNCH)
There is much to celebrate as the Fifth Replenishment of the Global Fund to Fight AIDS, Tuberculosis and Malaria concluded in Montreal this past weekend. Global leaders pledged over US$12.9 billion dollars which will help save 8 million lives and stop an additional 300 million new infections worldwide by 2019, as well as contribute to ending these deadly diseases as epidemics by 2030. This is truly a promising horizon.
The discussions that took place in Montreal evoked for me a memory from my first field experience in 2001, when the horizon was not so bright. I vividly recall visiting the home of a 12-year old girl in Central Uganda who had recently lost both parents to AIDS. As too many children experience, carefree days and limitless dreams were traded for the role of caretaker to her three younger siblings and becoming the head of household.
To continue to make progress, we must relentlessly focus on the hardest to reach and those who are too often left behind.
An aid organization had built a one-room home made of mud floors and clay brick walls with a tin roof. Together with the weekly visit of a community outreach worker, this was the only support available to the newly orphaned family. I stood there in that moment, looking out the window at the freshly dug graves of the parents, taking in the likely trajectory of this girl's life and I thought we can do better… we must.
Since the founding of the Global Fund in 2002 we have done better. As I attended the Fifth Replenishment Conference, I reflected on the great strides we have made in mitigating the infection and mortality rates for HIV/AIDS, TB and malaria and supporting those who are infected through much improved health interventions. Global Fund supported programs have saved more than 20 million lives — a huge feat that all involved can be proud of. Beyond the Global Fund, the Sustainable Development Agenda, and the Global Strategy for Women's, Children's and Adolescents' Health have put the most vulnerable and hardest to reach at the forefront of the health agenda.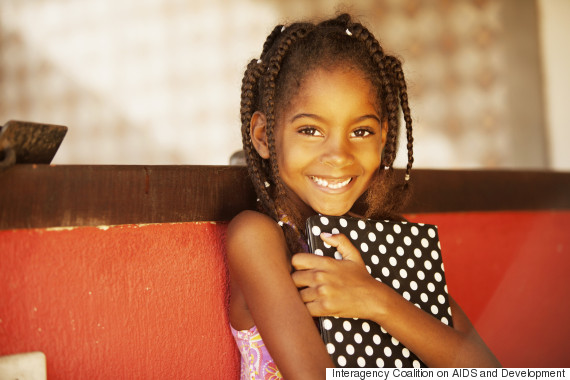 Notwithstanding this progress, there is still a pressing need to reach vulnerable populations, including women, adolescents and children who face greater obstacles in achieving their full potential for leading safe, healthy lives.
Since the year 2000, there has been a 40 per cent decrease in the death of children under five from malaria, but it still claims a child's life every two minutes. Young women aged 15 to 24 account for 17.4 per cent of new HIV infections, or 7,000 new infections weekly; and, in the hardest hit countries, girls account for 80 per cent of all new HIV infections among adolescents.
We also know that fragile contexts of conflict, displacement and natural disasters exacerbate poor health: currently 60 per cent of preventable maternal deaths take place here. What's worse is that by 2030 over two-thirds of the world's extreme poor will be living in fragility. To continue to make progress, we must relentlessly focus on the hardest to reach and those who are too often left behind.
While the unquestionable success of the Fifth Global Fund Replenishment Conference has put us on the right track, commitments made this past week are not the end point. We must seize the momentum from this post-replenishment moment, beginning with the current session of the United Nations General Assembly (UNGA), and push constantly for the fulfillment of the Sustainable Development Agenda and Global Strategy 2030 targets.
To achieve the SDGs through the effective investments of resources will require three things. First, we need sustained political will. We are proud of Canada's strong leadership role in hosting the Replenishment Conference and pledging $804 million. And we are equally glad to see Canada's leadership in encouraging other countries to contribute generously.
At the UNGA and beyond, we look forward to seeing Canada continue to lead the global health conversation, with particular emphasis on the imperative of investments in women's, children's and adolescents' health. We agree, #PovertyIsSexist, but through a focus on gender transformative approaches that focus on rebalancing power relations and reconfiguring the social position of women and girls in the household and in society, we can and will succeed in meeting the SDGs for everyone, everywhere.
Second, we must conduct applied research to make evidence-based decisions about what is and is not working and how to best scale up successful interventions. The Center of Excellence for Civil Registration and Vital Statistics (CRVS) Systems, a made in Canada initiative with global reach, could play a constructive role in facilitating the analysis and aggregation of data and together with the Government of Canada and global institutions, like the Global Fund, convene learning forums to inform policy and support proven best practices.
Lastly, we must continue collective learning. Governments, donors, organizations, academics, and civil society must learn from each other as well as from those facing barriers to leading healthy and safe lives. The Replenishment Conference was a positive example of the power of collaborative partnership. CAN-MNCH will continue to catalyze collaboration with its Partners nationally and internationally: doing our part to bring about evidence driven progress for women, adolescents and children around the world.
Sustained political leadership, evidence-based decisions and collaborative learning can guide how to best spend resources to maximize results beyond the Global Fund Replenishment to not only #EndItForGood for HIV, TB and malaria, but also for delivering resilient health systems that can be accessed by all with dignity. Together, we can reach the horizon where no child need to look out their window onto a past of hardship and loss and a future that could have been.
Wendy Therrien is the Director of External Relations for the Canadian Network for Maternal, Newborn and Child Health. The Canadian Network is a collaboration of over 80 organizations working in more than 1,000 communities globally and is a significant galvanizing force, driving Canadian leadership and investment in women's and children's health worldwide. Wendy's role in the Canadian Network is to collaborate with Partners to promote Canadian leadership on women's and children's health. With a career focused on international development, Wendy has achieved numerous successes including playing a strong role in promoting Canadian investment in maternal, newborn and child health in 2010, securing Canadian investment in forgotten emergencies and supporting the inclusion of both boys and girls in Canada's approach to human trafficking. Wendy holds a master's degree in Political Science from York University where she focused on global trade and development.
This blog is part of the blog series: AIDS, TB and Malaria: It's High Time for Us to End It. For Good by the Interagency Coalition on AIDS and Development (ICAD) in recognition of The Global Fund's Fifth Replenishment. The blog series runs from August 29 to October 3, 2016 and features a selection of blogs written by our member and partner organizations. Contributors share their broad range of perspectives and insight on the work of The Global Fund and the opportunity that this moment presents us one year following the inauguration of the global Sustainable Development Goals (SDGs).
Disclaimer: The views and opinions expressed in this blog series are those of the authors and do not necessarily reflect those of ICAD.